About the Artist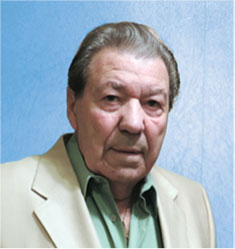 Ralph Garafola critically acclaimed artist, educator and author was raised in Sheepshead Bay, Brooklyn. He and his family moved to New Jersey in 1964 and since 2001 spends the winters in Florida.
Garafola started his career as a draftsman in New York City for Armor Engineering. Later Garafola worked for Design Service in Newark, NJ as an illustrator producing government training manuals for the Armed Forces. Afterwards he was promoted to Art Director. He worked there until he was drafted in 1953. Subsequently he studied drawing at The Alliance Art School (Educational Alliance) in lower Manhattan at night.
Garafola, a Korean War veteran was in the army for two years as Army Combat Photographer MOS. He studied at Fort Monmouth New Jersey Army photo school; graduated and transferred to the Pictorial Center, Long Island City as a photographer making training films for the army. While stationed in Korea Garafola was a draftsman. He was discharged in 1955.

Back in New York, Garafola studied at the Art Students League of New York over seven years with Frank J. Reilly. He served as class monitor to Reilly, who was an instructor at the League and Commissioner of Art for New York City.
Garafola worked at Janal Studio in Newark as a commercial illustrator. At that juncture he then went out on his own and for more than 65 years he made a successful living as a self-employed commercial illustrator, photo retoucher and fine artist. Garafola retired as a commercial illustrator and continued painting.
He brings his style of contemporary realism to his oil and watercolor paintings of portraits, landscapes, seascapes, still life and pets. Garafola travels throughout southeastern United States plein air painting and Italy, France in search of new subjects and locations for future paintings while studying the works of the Old Masters.
At 70 years of age started teaching at the duCret School of Art, Plainfield, NJ and in Florida at the Sarasota Art Center, Longboat Key – Ringling College of Art and Design, the Art Center Manatee and Art Expressions by the Bay in Sarasota. Garafola also has students he tutors privately.
Current Work/Projects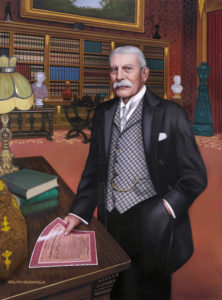 Garafola's portraits and still lifes capture the personality and character of his subjects while his landscapes and seascapes capture the mood of the scenes. Garafola says, "All my paintings are portraits. Whether my subject is a person, landscape, seascape or still life, my approach is to portray my subject in its natural environment. It puts the viewer inside the painting. My paintings realistically depict what nature has created." http://www.ralphgarafola.com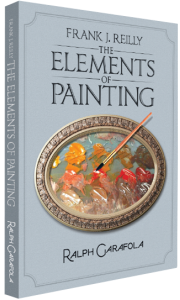 Garafola's first published book "Frank J. Reilly – The Elements of Painting" reveals Reilly's theory of what one needs to know about painting, as taught to Garafola. Frank J. Reilly was an American painter, illustrator, muralist and teacher. Reilly served as the Commissioner of Art for New York City. Ralph Garafola studied at the Art Students League of New York over seven years, where he served as Reilly's class monitor.
"To succeed in the realm of graphic arts, like dancing and playing music, one must acquire knowledge. By practicing and applying that knowledge, one becomes skillful. It was Reilly's logical application which was the basis for developing my craft. After 65 successful years I have never found a reason to change methodology he taught me. I owe him my sincere gratitude. Now, through this book, I share it with you" says Garafola.
Now Garafola is working on a second book, "Frank J. Reilly – Outdoor Painting" publication is scheduled for the end of 2017. http://FrankReillyBooks.com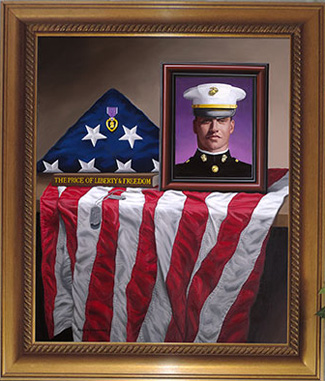 "The Price of Liberty & Freedom" A Commemorative Painting for Honoring Your Personal Hero was painted by Garafola as a dedication to the ultimate sacrifice made by our heroes so we can continue living with the freedoms we have in our nation. Ralph Garafola a veteran of the Korean War, long believed our heroes can be honored with more than a photo on a mantle or bureau. He created this unique painting in which a photograph of your personal hero is inserted into the composition – creating a beautiful, commemorative work of art that truly honors them and their sacrifice. It comes to you as a high-quality Giclee reproduction of the original painting printed on canvas and varnished for protection. https://thepriceoflibertyfreedom.com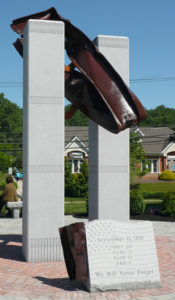 Garafola designed and directed the building of the 911 Memorial which stands in front of the Warren Township Municipal building in New Jersey. http://warrennj.org/about/911-monument/
Associations and Awards

Garafola is a member of numerous art associations. He is a Life Member of the Art Students League of New York and Life Member of the Art Directors Club of New Jersey. In Florida he is a member of the Art Center of Manatee, Longboat Key; the Sarasota Art Center; the Portrait Society of Sarasota; and the Ringling Museum of Art in Sarasota. In New Jersey he is a member of the Somerset Art Association; the New Jersey Center for Visual Arts in Summit; and the Westfield Art Association.
Garafola was the recipient of a Certificate of Excellence at the International Portrait Arts Festival of the American Society of Portrait Artists Foundation. Other awards include:
First Place – Long Boat Key Art Center
First Place – Anna Maria Art League Show
Honorable Mention – Park Avenue Club
The Marion Anderson Memorial Award for Portraiture – New Jersey Center for Visual Arts
First Place – Les Malamut Gallery
Grumbacher Gold Medallion Award, Best in Show – Somerset Art Association
Gold Medal – Art Directors Club of New Jersey
Award for Excellence – Mountain Art Show
He also was featured at the Alumni Association of Washington and Lee University, Virginia.
Media
NJ Savvy Living Magazine featured Garafola as one of the three premier portrait artists in New Jersey. Other media coverage includes:
Portrait Signature-Journal of the American Society of Portrait Artists
Ridgewood Art Institute's catalogue
Star Ledger
Asbury Park Press
Courier News
Home News Tribune
The Journal
B.Savvy magazine of Central New Jersey
Warren Business and Professional Newspaper
The Warren Historical Society newsletter
Long Island Power and Sail Magazine
The Connections Showcase
Exhibits and Hangings
Garafola exhibits can be seen in:
Florida
Sarasota Art Center in Longboat Key
Anna Maria Island
Local galleries
New Jersey
Somerset Art Association
Watchung Art Association
New Jersey Center for Visual Arts
Ridgewood Art Institute
Westfield Art Association
Mountain Art Show
Art in the Hills Show
Cloninger Gallery
Jewel Spiegel Gallery
Automatic Data Processing (ADP) headquarters
Children's Specialized Hospital in Mountainside
Berlex Corporation
Beneficial World headquarters
Park Avenue Club
Westfield Art Gallery
Warren Public Library and Courtroom
Garafola's portraits hang in private collections throughout the United States:
Ballerina Sara, New York City
Bobby and his dog Butchie, Staten Island, NY
Christiana & Danielle, Nissequque, NY
Diane and Tucker, former NJ Governor Di Francesco's wife Diane and her golden retriever, Warren, NJ
Franklyn Babbit, airplane pilot, entrepreneur, Myrtle Beach, SC
Very Reverend Michael A. McGuire, the late reverend from Sacred Heart Church, South Plainfield, NJ
Charles McDowell Sr., former law professor, hanging in Washington and Lee University, Lexington, VA
Jackie LeClaire, Ringling Bros. Clown, Sarasota, FL
James with his dog Duke, New York City
Jamie on her horse Irishman, equestrienne champion rider, Warren, NJ
Lora Codington, Warren Township philanthropist and descendent of an American Revolutionary War Family, hanging in the Warren Public Library, Warren, NJ
Lorraine, Boynton Beach, FL
Major General Joseph Warren hanging in the Warren Township's courtroom, Warren, NJ
Monica, Bedminster, NJ
Nicholas Vomero, fencing champion (life-size portrait), Centerport, NY
Ralph Garafola, self-portrait, Warren, NJ
Tiffany & Chelsea Clarke, Cape Cod, MA
Victor DiLeo, CEO DiLeo Realty, Piscataway, NJ
William & Mildred Garafola, New York
Henry Morrison Flagler, Florida