About the Artist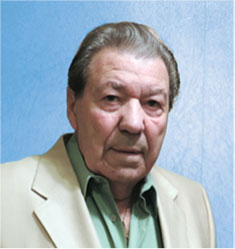 Ralph Garafola critically acclaimed artist, educator, and author was raised in Sheepshead Bay, Brooklyn. He and his family moved to New Jersey in 1964 and since 2001 he spends the winters in Florida.
Garafola started drawing at three years of age. "I was always drawing something on brown paper bags. My grandfather would tell me stories about the Italian Navy and being stationed on square rigger sailing ships. I remember drawing those ships". In elementary school, Garafola's teaches realized that he had talent so they would ask him to paint pictures for the bulletin boards.
Garafola started his career in 1950 as a draftsman in New York City for Arma Engineering. A year later Garafola worked for Design Service in Newark, NJ as an illustrator producing government training manuals for the Armed Forces. Afterwards, he was promoted to Art Director. He worked there until he was drafted in 1953. Subsequently, he studied drawing at The Alliance Art School (Educational Alliance) in lower Manhattan at night.
Garafola, a Korean War veteran was in the army for two years as Army Combat Photographer MOS. He studied at Fort Monmouth New Jersey Army Photo School; graduated and transferred to the Pictorial Center, Long Island City as a photographer making training films for the army. While stationed in Korea Garafola was a draftsman doing illustrations for Signal Corps at I-Corps, First Army Corps. He was discharged in 1955.

Back in New York, Garafola studied at the Art Students League of New York over seven years with Frank J. Reilly. He served as a class monitor to Reilly, who was an instructor at the League and Commissioner of Art for New York City.
Garafola worked at Janal Studios in Newark as a commercial illustrator from 1955 until 1960. At that juncture, he went out on his own and for more than 65 years he made a successful living as a self-employed commercial illustrator, photo retoucher, and fine artist.
During the course of his professional years, he painted practically every subject you can imagine which included pharmaceutical and medical illustrations for Ethicon, Blue Cross, Hoffman-La Roche, Schering Plough and Johnson & Johnson. Garafola also did illustrations for other major corporations such as Bell Tel, Public Service, Macy's, Prudential Insurance Company, Mutual Life Insurance Company and others. Iconic images of Garafola's is the Prudential Insurance Company (the rock) logo; New Jersey License Plate, "Organ Donors Saves Lives"; and his illustration of the Sabrett Hot Dog on a roll with mustard that is on street corners and packages throughout the country.
His personal attention and quality work awarded him great success serving over sixty-five clients. He never had to do a job over and always delivered on time. In 1977, the Art Directors' Club of New Jersey awarded him with a special Gold Medal as the Most Valued Supplier.
In 1992, his daughter, Lorraine started an agency representing him, other illustrators, photographers and a graphic designer. That was great because that enabled him to stay in his studio painting until 2002.
At this time Garafola retired as a commercial illustrator and continued painting. He brings his style of contemporary realism to his oil and watercolor paintings.
At 70 years of age, he started teaching; he taught portrait painting at the duCret School of Art, Plainfield, NJ and fine art in Florida at Ringling College of Art and Design Annex, Longboat Key Art Center and the Art Center Manatee. Presently, he teaches painting at the Sarasota Art Center and Art Expressions by the Bay in Sarasota. Garafola also has students he tutors privately.
Current Work/Projects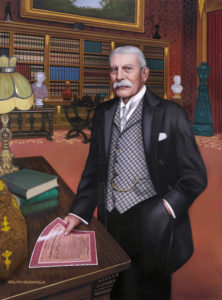 Garafola's portraits and still lifes capture the personality and character of his subjects while his landscapes and seascapes capture the mood of the scenes; time of day, seasons, weather conditions, and all his paintings tell a story. http://www.ralphgarafola.com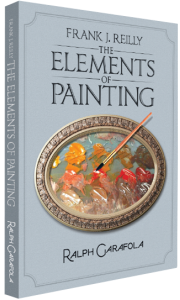 Garafola's first published book "Frank J. Reilly – The Elements of Painting" reveals Reilly's theory of what one needs to know about painting, as taught to Garafola. Frank J. Reilly was an American painter, illustrator, muralist and most famous as a teacher. Reilly served as the Commissioner of Art for New York City. Ralph Garafola studied at the Art Students League of New York over seven years, where he served as Reilly's class monitor.
"To succeed in the realm of graphic arts, like dancing and playing music, one must acquire knowledge. By practicing and applying that knowledge, one becomes skillful. It was Reilly's logical application which was the basis for developing my craft. After more than 65 successful years I have never found a reason to change methodology he taught me. I owe him my sincere gratitude. Now, through this book, I share it with you" says Garafola.
Garafola is now working on a second book, "Frank J. Reilly – Outdoor Painting" publication is scheduled in 2018. http://FrankReillyBooks.com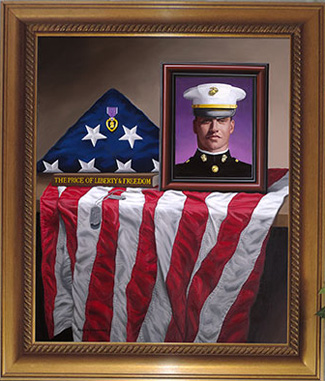 "The Price of Liberty & Freedom" A Commemorative Painting for Honoring Your Personal Hero was painted by Garafola as a dedication to the ultimate sacrifice made by our heroes so we can continue living with the freedoms we have in our nation. Ralph Garafola a veteran of the Korean War, long believed our heroes can be honored with more than a photo on a mantle or bureau. He created this unique painting in which a photograph of your personal hero is inserted into the composition – creating a beautiful, commemorative work of art that truly honors them and their sacrifice. https://thepriceoflibertyfreedom.com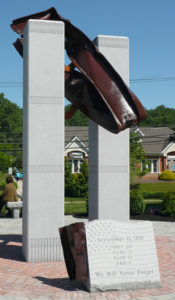 Garafola designed and directed the building of the 911 Memorial which stands in front of the Warren Township Municipal building in New Jersey. http://warrennj.org/about/911-monument/
All of his paintings tell a story.
Awards/Shows/Portraits

Associations
Garafola is a member of numerous art associations. He is a Life Member of the Art Students League of New York and Life Member of the Art Directors Club of New Jersey. In Florida he is a member of the Art Center of Manatee, Longboat Key; the Sarasota Art Center; the Portrait Society of Sarasota; and the Ringling Museum of Art in Sarasota. In New Jersey he is a member of the Somerset Art Association; the New Jersey Center for Visual Arts in Summit; and the Westfield Art Association. Other associations include The International Guild of Realism, Fine Art Studio Online, LA Art Guide, Oil Painters of America and International Gallery of the Arts, Art Tour/Art Basel
Garafola was the recipient of a Certificate of Excellence at the International Portrait Arts Festival of the American Society of Portrait Artists Foundation. Other awards include:
First Place – Long Boat Key Art Center
First Place – Anna Maria Art League Show
Honorable Mention – Park Avenue Club
The Marion Anderson Memorial Award for Portraiture – New Jersey Center for Visual Arts
First Place – Les Malamut Gallery
Grumbacher Gold Medallion Award, Best in Show – Somerset Art Association
Gold Medal – Art Directors Club of New Jersey
Award for Excellence – Mountain Art Show
He also was featured at the Alumni Association of Washington and Lee University, Virginia.
Awards
Contemporary Art Gallery Online, All Weather of the Seasons, 2nd Place, Hooper Straight Lighthouse
Bauhaus Prairie Art Gallery, Still Life Competition, Third Place, Carneval De Venezia
Bauhaus Prairie Art Gallery, Portrait Competition

Honorable Mention, Henry Morrison Flagler
Honorable Mention, Gypsy Mirela
Honorable Mention, Jeannie & Goliath

Contemporary Art Gallery Online, All Landscapes, Best in Show, Waterloo Village
Bauhaus Prairie Art Gallery, Creative Inspiration – Inaugural year

Award of Merit, Noteworthy, Waterloo Village
Award of Merit, Noteworthy, Moose in Yosemite
Award of Merit, Noteworthy, Mabry Mill

Society of Portrait Artists Foundation, the International Portrait Arts Festival held at the Metropolitan Museum of Art in New York City, Certificate of Excellence, Atsuko Kubota (Japanese Girl)
Art Center Sarasota, Sarasota, FL, 1st Place, Painting on The Left Bank, Paris
Mountain Art Show, Bernardsville, NJ, Award of Excellence, Atsuko Kubota (Japanese Girl)
Somerset Art Association, Somerset, NJ, Best in Show, Atsuko Kubota (Japanese Girl)
Somerset Art Association, Somerset, NJ, Grumbacher Gold Medallion Award, Atsuko Kubota (Japanese Girl)
Anna Maria Art League Gallery, Anna Maria Island, FL, 1st Place, Flamenco Dancer
New Jersey Center for Visual Arts, Summit, NJ, Marion Anderson Memorial Award for Portraiture, Carolann
New Jersey Center of Visual Arts, Summit, NJ, Award of Excellence, Bill, Guitar Player
Sarasota Portrait Society, Sarasota, FL, 1st Place, Ralph Garafola, Self Portrait
Watchung Arts Center, Watchung, NJ, Award of Excellence, Bobby and his dog Butchie
Art Center of Manatee, Manatee, FL

1st Place, Carnevale de Venezia
1st Place, Twelve Meter Racing
2nd Place, The Golden Ballet Shoes

Art & Frame, Sarasota, FL, 1st Place, Bridge Street Pier at Sunrise
Les Malamut Gallery, Union, NJ, Honorable Mention, Venice Gondola
Longboat Key Center for the Arts (Div. of Ringling College), Longboat Key, FL

1st Place, Tourist in the Ringling Museum
1st Place, Kubuki Courtesan
1st Place, Memories of a Geisha

Park Avenue Club, Florham Park, NJ, 2nd Place, Au Lapin Agile (Dancing Rabbit) Cabaret, Montmartre
Ridgewood Art Institute, Ridgewood, NJ, Gamblin "Artists Oil Color" Award, Waterloo Village
Westfield Art Association, Westfield, NJ

Award of Excellence, The Clammer
Award of Excellence, Brown's Head Light

Art Directors Club of New Jersey, Kearny, NJ, Gold Medal, Special Honor-Service Award, Ralph Garafola
Gallery / Shows / Online Exhibitions
Online Exhibitions
Bauhaus Prairie Art Gallery
Contemporary Art Gallery
LA Art Guide
Xanadu Gallery
Art Students League, Members
Fine Art Studio Online (FASO)
International Gallery of the Arts (IGOA)
Art Tour/Art Basel, Miami

Gallery / Shows
Allied Artists of America, NYC
Alumni Association of Washington and Lee University, VA
American Society of Portrait Artists, International
Anna Maria Art League Gallery, Anna Maria Island, FL
Art & Frame, Sarasota, FL
Art Center of Manatee, FL
Art Center of Sarasota, Sarasota, FL
Art in the Hills Show, Pluckemin, NJ
Art Student League, NYC
Arts in the National Parks, USA
Automatic Data Processing Headquarters (ADP), Roseland, NJ
Beneficial World Headquarters, Morristown, NJ
Berlex Corporation, Montville, NJ
Burgdorff Realtors, Warren, NJ
Children's Specialized Hospital, Mountainside, NJ
Clarence Dillon Public Library, Bedminster, NJ
Corby Gallery, Cedar Grove, NJ
duCret School of Art, Plainfield, NJ
G. J. Cloninger & Co. Gallery, Morris Plains, NJ
Great Swamp Exhibition Gallery, Morris County, NJ
Illustrators Club, NYC
Jewel Spiegel Gallery, Englewood, NJ
Johnson and Johnson Gallery, New Brunswick, NJ
Les Malamut Gallery, Union Public Library, Union, NJ
Longboat Key Center for the Arts (Div. of Ringling College), Longboat Key, FL
Mountain Art Show, Bernardsville, NJ
National Academy of Design, NYC
New Jersey Center for Visual Arts, Summit, NJ
Park Avenue Club, Florham Park, NJ
Portrait Society of Sarasota, Sarasota, FL
Ridgewood Art Institute, Ridgewood, NJ
Somerset Art Association, Somerset, NJ
Sussex Maritime Museum, NJ
Watchung Art Association, Watchung, NJ
Westfield Art Association, Westfield, NJ
Westfield Art Gallery, Westfield, NJ
Portraits around the Nation
Ballerina Sara, New York City
Bobby and his dog Butchie, Staten Island, NY
Charles McDowell Sr., former law professor, hanging in Washington and Lee University, Lexington, VA
Christiana & Danielle, Nissequque, NY
Diane and Tucker, former NJ Governor Di Francesco's wife Diane and her golden retriever, Warren, NJ
Franklyn Babbit, airplane pilot, entrepreneur, Myrtle Beach, SC
Henry Morrison Flagler, (life-size portrait), Florida
Jackie LeClaire, Ringling Bros. Clown, Sarasota, FL
James with his dog Duke, New York City
Jamie on her horse Irishman, Warren, NJ equestrienne champion rider
Lora Codington, Warren Township Philanthropist and Descendent of an American Revolutionary War Family, hanging in the Warren Public Library, Warren, NJ
Lorraine, Boynton Beach, FL
Major General Joseph Warren hanging in the Warren Township's courtroom, Warren, NJ
Monica, Bedminster, NJ
Nicholas Vomero, Fencing Champion (life-size portrait), Centerport, NY
Ralph Garafola, Self Portrait, Warren, NJ
Tiffany & Chelsea Clarke, Cape Cod, MA
Very Reverend Michael A. McGuire, the late reverend from Sacred Heart Church, South Plainfield, NJ
Victor DiLeo, CEO DiLeo Realty, Piscataway, NJ
William & Mildred Garafola, New York